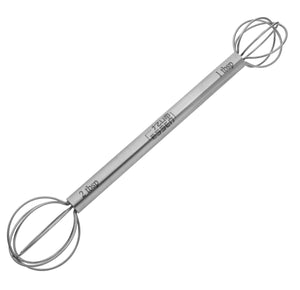 HIGH QUALITY: This Premium Miso Whisk is made of high quality stainless steel with whisks that will stir well.

MISO LOVERS FAVORITE UTENSIL: Using a measuring whisk has its unique functionality in a kitchen especially for those who frequently cook with Miso paste in your dishes.

EASY TO CLEAN: Our enhanced whisk is made with steel stoppers at the tip of the whisk to stop food from getting stuck making it easy to clean.

BEST USE: Due to its ergonomic design makes it easy to hold in the ball of your hand and with its small whisk size it allows efficient airflow which improved airflow for small portions whisking. This can replace any large kitchen whisk for mixing small portions of marinades, salad dressings, eggs and mayonnaise, etc.